Are you a Verizon Fios customer looking to take full control of your home network? If so, you've come to the right place. In this comprehensive guide, we'll walk you through the process of setting up and managing your MyFiosGateway login, enabling you to fine-tune your WiFi settings for a seamless online experience.
What is MyFiosGateway?
MyFiosGateway is the gateway to your Verizon Fios home network. It's a web-based interface that allows you to configure and manage various aspects of your internet connection, including your WiFi settings. This gateway is a powerful tool that puts you in charge of your network, from changing your WiFi network name to optimizing security.
Why is MyFiosGateway Login Important?
The MyFiosGateway login is essential because it gives you the ability to customize your home network to suit your needs. Without it, you would be limited to default settings, leaving you with a less secure and potentially underperforming network. Here's how you can access and harness the power of MyFiosGateway:
How to Access the MyFiosGateway Login Page
To access the MyFiosGateway login page, you need to follow these simple steps: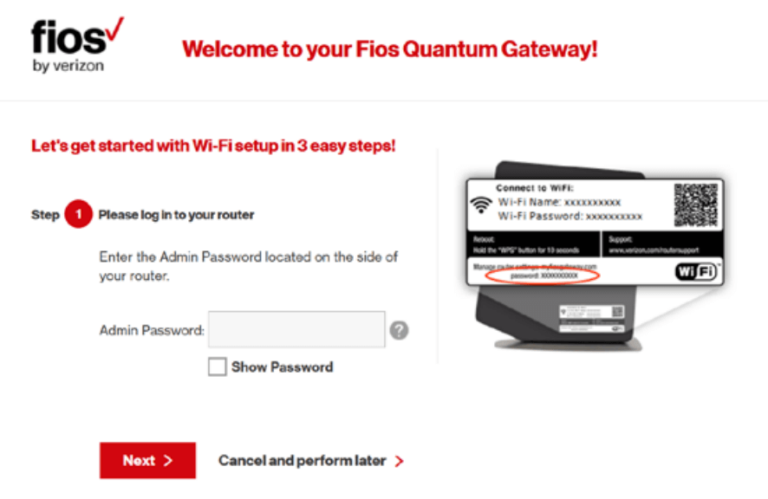 Connect to your Verizon Fios network.
Open your preferred web browser.
In the address bar, type "http://myfiosgateway.com" or "http://192.168.1.1".
Press Enter.
You should now see the MyFiosGateway login page, prompting you to enter your credentials.
Logging In to MyFiosGateway
Once you're on the login page, use your username and password to access your gateway. These credentials are typically provided by Verizon when you first set up your service. If you can't find them, contact Verizon's customer support for assistance.
After logging in, you'll have access to a plethora of settings to configure your network. Here's what you can do:
Setting Up Your WiFi Network
Changing WiFi Network Name (SSID)
Your WiFi network name, also known as the SSID (Service Set Identifier), is what your devices use to identify and connect to your network. You can change it to something more personal or easily recognizable. This is especially useful in areas with multiple WiFi networks.
Setting a Strong Password
Protect your network by setting a strong and unique password. Avoid easily guessable combinations like "password123." A strong password can significantly enhance your network's security.
Configuring Guest Networks
If you frequently have guests over, consider creating a separate guest network. This keeps your main network secure while still allowing your guests to access the internet. You can even set time limits for guest access.
Managing WiFi Settings
Adjusting Channel Settings
Choosing the right WiFi channel can improve your network's performance. MyFiosGateway allows you to change channels to avoid interference and congestion, ensuring a smoother online experience.
Updating Firmware
Regularly updating your gateway's firmware ensures that it runs smoothly and securely. Outdated firmware can lead to performance issues and security vulnerabilities. Keep your gateway up to date for a worry-free experience.
Enabling Parental Controls
MyFiosGateway provides parental control options, allowing you to restrict access to certain websites or schedule internet usage for your kids. It's a handy feature for managing screen time.
Troubleshooting Common Issues
While MyFiosGateway is a powerful tool, you might encounter some common issues:
Connectivity Problems
If you experience connectivity problems, check your gateway's status page for information. You can also restart your gateway or contact Verizon support for assistance.
Forgotten Password
If you forget your login credentials, there's an option to reset them. Follow the on-screen instructions to regain access.
Resetting the Gateway
In extreme cases, you can reset your gateway to its default settings. However, be cautious, as this will erase all your customized settings.
Enhancing WiFi Security
To enhance your WiFi security, consider these additional measures:
Change your WiFi password regularly.
Use WPA3 encryption for improved security.
Enable the built-in firewall to block malicious traffic.
By following these steps, you can ensure that your home network is safe and secure.
Conclusion
In this article, we've covered the essential aspects of the MyFiosGateway login, from accessing the login page to managing your WiFi settings. By taking control of your home network, you can enjoy a smoother and more secure online experience. Make sure to explore the various options and customize your network to your preferences.
Frequently Asked Questions (FAQs)
1. How can I access the MyFiosGateway login page?
To access the MyFiosGateway login page, connect to your Verizon Fios network and enter "http://myfiosgateway.com" or "http://192.168.1.1" in your web browser's address bar.
2. What can I do with MyFiosGateway once logged in?
Once logged in, you can change your WiFi network name, set a strong password, configure guest networks, adjust channel settings, update firmware, and enable parental controls, among other things.
3. How do I troubleshoot common connectivity issues with MyFiosGateway?
If you encounter connectivity problems, you can check your gateway's status page, restart your gateway, or contact Verizon support for assistance.
4. What should I do if I forget my MyFiosGateway login credentials?
If you forget your login credentials, you can reset them by following the on-screen instructions on the login page.
5. Is it necessary to update MyFiosGateway firmware regularly?
Yes, regular firmware updates are essential to ensure smooth operation and security. Outdated firmware can lead to performance issues and vulnerabilities.
Photo blogs magazine is a leading magazine publication house. The majority of our news is provided by staff writers. Other news is provided by news agencies and freelancers.
All of our contributors are members of the Society of Professional Journalists.
If you need to contact a news editor from Photo blogs magazine  you can find a list of email addresses on our contact page.
Our Organisation
Photo blogs magazine