When you have no ideas for what to wear to this date function
Discover creative ideas for rhyming without reason with this comprehensive guide to innovative poetic rhyme. Gain a better understanding of the poetic style with this educational piece.
I am going to a rhyme without reason date function and I have looked at so many different rhyming words and I figured there need to be a new list of words. At these functions, there are usually at least two rockers and boxers and an umpteenth amount of dogs and frogs. I have come up with a list of creative and unique ideas for these functions.
1. Dime and a mime
I think that this one would be super cute except one of the dates would have to not talk the entire function which would be extremely difficult.
2. Ramp and a Lamp
This is my personal favorite except it would be difficult to dress up like a ramp
3. Hooters and Shooters
For this you could have one person dress up like hooter's girl and have one person wear plastic shot glasses with color glue in them.
4. Sherlock and Woodstock
For this one person could wear a cape and a Sherlock hat with a magnifying glass and the other person could dress up like the bird Woodstock or the festival.
5. Spaghetti and a Yeti
This would be the coolest idea to do. To dress up like a bowl of spaghetti and a Yeti. The only thing you would have to watch would to make sure that the Yeti didn't eat the spaghetti.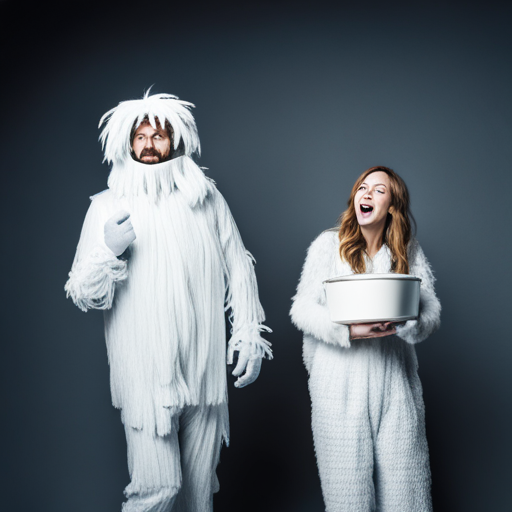 6. Whale and snail
This would be very cute. You could use a backpack or a laundry basket for the shell.
7. Ladder and Bladder
I don't know if you have seen the bladder cartoon but just imagine someone dressed up like that. Wouldn't that be so cute?
8. Rake and Snake
The snake could use the rake. This would be a very easy to dress up for.
9. Jam and Ham
You could dress up like a thing of jam or like a dollop of jam and just wear a single color.
10. Pig and a Twig
You could dress with pink and then the other person could dress with brown.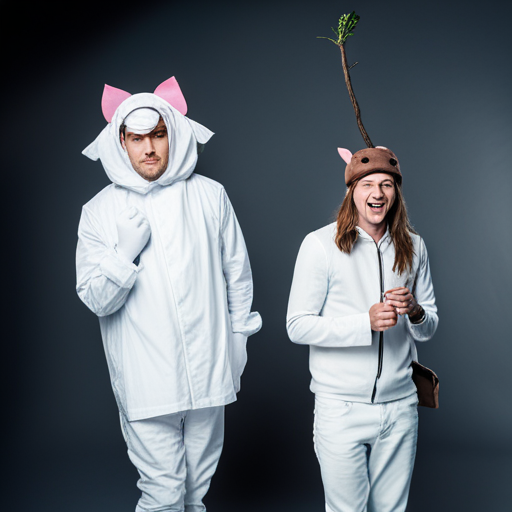 11. Banana and Nana
All you need for this one is a banana costume and old lady clothes
12. Dairy and Fairy
One person would dress up as a milk carton and the other as any kind of fairy.
13. Hibachi and Versace
I think that this is the most creative pairing that has ever been thought of. The hibachi person would definitely have to have one of those tall hats they wear.
14. Trash bag and American Flag
You could put your arms through the straps that come out of the trash bag and just wrap an American flag around yourself (as long as it doesn't touch the floor).
15. Gumball Machine and American Dream
This would be super cute if the person who was the gumball put puffballs onto their shirt and wore silver pants.
16. Bob Ross and Dental Floss
This is super easy and everyone would know exactly who you were.
I hope that as you go to functions with this theme or need a costume for Halloween or another event, these will be a help to you! I hope you like them as much as I do!
What is a rhyme without reason date function?
A rhyme without reason date function is when partners show up to an event wearing outfits that rhyme with each other. It opens up an opportunity for creativity.
What are some top ideas for a rhyme without reason?
A Ramp and a Lamp, a Whale and a Snail, a Rake and a Snake, a Trash Bag and an American Flag, and Bob Ross and Dental Floss are some top ideas for a rhyme without reason date function.
What are some sources of rhyme without reason inspiration?
TikTok has a whole collection of rhyme without reason ideas. You might also look toward Her Campus or our handy list.